Nickelodeon Debuts The Penguins of Madagascar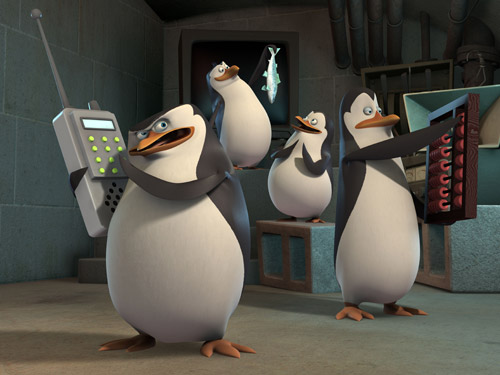 Nickelodeon
The hilarious penguins from Madagascar and Madagascar Escape 2 Africa are starring in their own spin-off series, The Penguins of Madagascar, on Nickelodeon that debuts Saturday, March 28, at 9:30 PM (ET/PT) (after the 22nd Annual Kids' Choice Awards). Then, over the following two weeks, the network will feature episodes, weeknights at 8:00 – 8:30 PM (ET/PT) from Monday, March 30, through Friday, April 10. That's way past Anya's bedtime so we'll be DVRing all episodes!
It's not exactly clear how the penguins return to Central Park Zoo, but Late Night with Conan O' Brien's Andy Richter and Tom McGrath (director of both films and co-creator of the characters) are back as penguins Mort and Skipper; Nicole Sullivan (of MadTV and Rita Rocks, and expecting her second son this summer) appears as the new character Marlene the Otter. King Julien and Maurice are back too, but they're not being voiced by Sacha Baron Cohen or Cedric the Entertainer. Fortunately, the replacement voices are very similar.
— Danielle
Click for the synopses of the first four episodes.
The premiere episode "Launchtime" (airing March 28) finds the penguins vacationing on the Moon after being completely frustrated by their pushy, loud and obnoxious lemur neighbors. As they arrive by homemade rocket, they meet a "moon cat" who has strange plans for Skipper and the penguins. Also in this episode, "Haunted Habitat" introduces viewers to Marlene, the otter, who is awakened by a spooky noise. She and Skipper then travel down to the sewer below the zoo and confront the mysterious "monster" to stop its creepy howling for good.
In the next two debuts during its premiere weeks, "Operation: Plush and Cover" (airing March 30) has Julien jealous after stuffed Mort dolls become popular at the zoo. Julien has them recalled and the real-life Mort is accidentally sent back to the factory along with his plush replicas. In "Happy Julien Day," (airing March 31) Maurice bribes the zoo animals to celebrate "King Julien Day" by offering them candy. Skipper refuses to take part, but is still unable to avoid the festivities.