Cheryl Hines Dishes On Catherine's 'Odd' Choice of Bedtime Story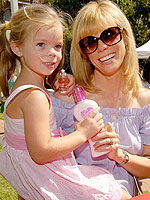 Mark Sullivan/WireImage
Some 5-year-old girls drift off to sleep with visions of fairy princesses dancing in their heads, and then there is Catherine Rose, daughter of actress Cheryl Hines. During a humorous appearance on Wednesday's Jimmy Kimmel Live! the 43-year-old Curb Your Enthusiasm star revealed one recent bedtime exchange with Catherine, whom she describes as "a little odd."
"At night I read her some books and then I tell her a story. So I said, 'What story do you want to hear?' And she said, 'The Bernie Madoff story.'"
It seems that Catherine just "loves" hearing about disgraced financier, after witnessing Cheryl's own shocked reaction when she first learned about the Ponzi scheme he used to bilk thousands of investors out of billions of dollars. "It's weird," Cheryl admits. "She's fascinated because she heard me talking about him, and when I first heard his story I [gasped] and said 'Oh my God, that's awful!' And she was like, 'What…What is it?'"
"I said, 'Well, this guy stole a lot of money. And she goes, 'Well, he needs to give it back!' And I said, 'Oh I don't think he has it.' And she asked, 'Why not?' I said, 'Well, he gave some away…he bought boats and houses and cars.' And she said, 'Well he should give those people the boats and houses and cars.' And I was like…'You're right. And good night!'"
Continuing to defy convention, Catherine chose a reptile theme for her fifth birthday party. Thinking it was a "cute" idea, Cheryl hired a team of animal handlers which came directly to her home with a wide variety of creatures in tow — including boa constrictors, tarantulas, scorpions, a komodo dragon and a "giant turtle that all the kids rode around on," she said. While Catherine had a blast — "she loved it," Cheryl said — there were still a few hair-raising moments! Joked Cheryl,
"It's weird, I remember asking the girl when they were passing the scorpion around…I said, 'Are these dangerous?' She just smiled, and said, 'Yeah, they can be."
Catherine is the first child for Cheryl and her husband of six years, Paul Young. Her new series In the Motherhood debuts tonight at 8 p.m. on ABC.
Source: Jimmy Kimmel Live!