Kristin Dos Santos Wants Your Input!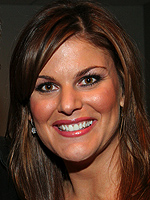 Kevin Parry/WireImage
"It's time, tubers," declares E! News correspondent Kristin Dos Santos in her latest column. The Watch with Kristin columnist began her maternity leave this past Friday after being told by "my very kind doctor, [that] this baby could come 'at any time now.'"
Kristin, 34, and her husband João Dos Santos decided against finding out the sex of the baby, so "no joke, we still have not decided on a name for this child" and are asking for all the help that they can get! Kristin would like readers to leave their name suggestions and also join in "a fun little Baby Dos Santos pool … You can play along by guessing my bambino's birth date and sex," by clicking here. No matter what day Kristin gives birth, she says "It's baby time, people! I believe Josh [Holloway]'s wife is due right around the same day as I am, as is Alyson Hannigan."
Jennifer Godwin, Carrie Borzillo-Vrenna and Natalie Abrams will fill in for Kristin while she is on maternity leave. This is the first child for Kristin and João, who were married in July 2007.
Source: E!