Joel Madden, Nicole Richie 'Let Love Plan Our Babies'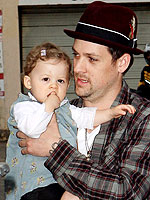 Ramey
Despite having recently announced that they are expecting their second child, Nicole Richie and Joel Madden have yet to make a family plan, the proud papa revealed to Ryan Seacrest. Still unsure of how many kids the couple plan to add to their growing brood, Joel jokes that their approach to having children is a simple one. "We let love plan our babies," he laughs. "We said even before this one we didn't know how many kids we were going to have…then we got pregnant!"
While the news called for some celebration, Joel admits that he also found himself backtracking a bit with his own family. Having recently denied that Nicole was pregnant weeks before to his mother — she called her son after reading that the two were expecting their second child — the 30-year-old quickly discovered that the tabloid headlines were far from rumors!
"My mom called me and she's like, 'Is Nicole…?' Every time, I'm like, 'Mom, come on, seriously. I would tell you.' And then I swear, two weeks later, it was like…it comes true! But we're excited about it, it's going to be great."
Clearly a doting dad — receiving high praise from Nicole — Joel admits that leaving his 14 ½-month-old daughter Harlow Winter Kate at home to record Good Charlotte's new album often leaves him feeling heartbroken. "That's hard man, when you leave your kid and they're saying no," he says. However, quick to use those emotions as inspiration for his lyrics, Joel penned a song for his baby girl — and used the announcement to send a quick shout-out to his daughter! "I wrote a song for Harlow and I got to say hi to her on the air because I'm sure she's listening right now. Hi Harlow, I love you!"
Good Charlotte's new album Cardiology is set for release later this year.
Source: On-Air With Ryan Seacrest