BabyJogger City Elite Stroller: A Big Stroller That's Big On Features
The Baby Jogger City Elite stroller ($450) isn't meant for jogging, but it sure handles everything we could throw at it in New York City. I love the sporty, unisex Red Sport color that's upbeat but not too flashy. It reminded me of a British racecar with the wide, white stripe down the middle.
Assembly and Fold
The City Elite came out of the box in five pieces and was assembled in under five minutes. I just snapped on the three wheels and the sun shade and we were ready for a walk. We assemble a lot of strollers and really love it when the company does the work for us. We always read the instructions for these reviews, but could have figured it out if they weren't handy.
The Baby Jogger patented Quick Fold Technology is unlike any I've seen. Just grab the strap in the seat and pull up. It releases a latch and the whole thing folds in half backwards. (Go to the website for a video demo!) There are straps with snaps that keep it from folding when you don't want it to, but even with them unattached my pulling and tugging couldn't make it fold until I pulled the handle properly. (Of course, always use those safety straps!) Remember that you pull up to fold it, so baby's weight actually keeps it open. Because it was absolutely freezing during our test period, I used it with a sleeping bag from another manufacturer and it still folded easily. I was also able to easily show my husband and our babysitter how to fold it and nobody's confused. You can really do it with a baby on your hip. It's brilliant! It weighs 25 pounds fully assembled so it's not a lightweight, but that fold makes up for its heft. Also, air-filled tires are heavy but they dramatically improve maneuverability. It's all about compromises.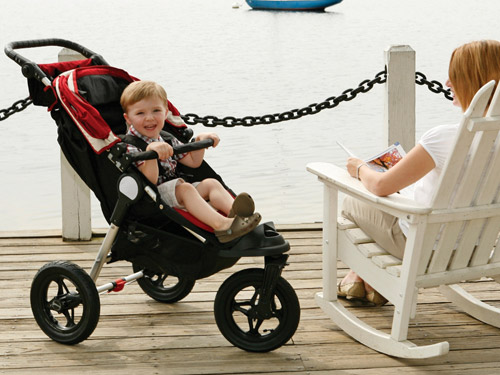 Seat and Recline
This is a really nice-sized seat that's comfortably padded. It has a five-point safety harness that's really easy to use after you get it adjusted the first time. I like that the crotch strap adjusts, a feature that's surprisingly tough to find, so as your child grows the buckle still sits at his abdomen. You can even unbuckle the baby with one hand with none of that annoying "push-and-twist-while-squeezing" nonsense. To recline the seat to nearly flat, just squeeze the buckle on the strap with one hand and adjust it to infinite positions. When the seat is reclined, a weather flap keeps the breeze out. The City Elite is also carseat compatible if you purchase the $70 carseat adapter.
The seat is wipeable and wide enough for a large child to ride happily. My 34-pound preschooler lay comfortably in the fully reclined seat with only  his feet sticking out of the sun shade! He could absolutely nap comfortably there. Sitting upright he had plenty of headroom and said the seat felt great. It was so easy to push him around, with no compromise of maneuverability with increased weight.
Ride and Maneuverability
The City Elite is one of the largest, tallest strollers I've seen. It's rated for children up to 75 pounds and would be really nice for parents with older children with special needs. The handle height is adjustable, a feature normally used by taller parents, but I'm 5'6″ and I had to tip the handle DOWN to push it comfortably. I found myself feeling self-conscious because of its size, a little like Edith Ann in her giant rocking chair, and my 10-month-old son Egan was dwarfed by the thing.
The width of the stroller is probably my biggest gripe, though it's probably engineered that way for stability. The rear wheels are 27″ wide — 10″ wider than the frame itself.  The width made it hard to wrestle into small shops and big crowds. It was a little like shoving a Sherman tank through New York's throngs. This is probably why Baby Jogger also sells the slick City Mini, a smaller, lighter stroller with some of the same cool features (like a big sun shade and that amazing fold!)
The 12″ air-filled tires and front swivel wheel make for a lovely ride. It silently whizzes through three-point turns and doorways with one finger, a tough maneuverability test. We handled snowy sidewalks with ease. This is not a jogging stroller and the instructions, the box and the website are all emphatic about that, but its all-terrain design meant we weren't stepping on the wheels or struggling over curbs, either. The front wheel easily locks in place or swivels and a foot brake stops both back wheels with one step.
A warning on the frame reminds us not to hang bags from the handle bar, but we had no problem with a diaper bag clipped closer to center of gravity on the frame, rather than the handle. (We had to put it there because the bag didn't fit in the basket.) When we added a second, heavier backpack we had to be cautious to prevent it tipping backward, but remember the company advises against hanging stuff there anyway. The stroller doesn't have a suspension system per se, but its V-shaped design gives the frame considerable flex. We pushed it over bumps and curbs without feeling like we were going to bounce the baby out.
Sun Shade
For years I've wished for a sun shade like this one. I mean, why is it so hard to make a sun shade that actually covers an entire baby?  Baby Jogger truly gets it and their sun shade is the greatest. First, it's enormous. It just keeps unfolding and unfolding, it's designed so it doesn't pinch tiny fingers and it covers my little one's legs. It's like he's in a tent. Second, it's full featured, with not one but TWO large, clear windows so you can see your baby without stopping. Both windows have flaps with magnets inside. Flip them up then flip them back down and they fall neatly into place. Last, it has two vented side panels so baby can catch a breeze on hot days without being exposed to the sun. Thank you, Baby Jogger! (Finally!)
Storage
You know those purses they sell on infomercials with the 3,000 pockets? This stroller is like one of those purses with great-big wheels. A six-pocket nylon parent organizer hidden on the handle is perfect for my phone, a pack of tissues and the hand sanitizer. A large, mesh pocket behind the seat is great for a blanket or an extra layer for Mom and you can see its contents clearly.
The under-seat basket is large and secure with several ways to access it. You can reach your arm in through a mesh pocket in the back of the seat or through openings in the sides of the stroller. The lowest portion of the seat (where Baby's calves rest) is an adjustable kicker that can be propped up. If you open that up you can reach into the basket that way. All these openings are nice but they're not wide enough to accommodate my diaper bag so it didn't fit in the basket.
Accessories
The City Elite does not come with any cup holders, a toddler tray, tire pump, rain cover or footmuff, but the website does offer a comprehensive selection of accessories including a jump seat ($110) that makes it an instant double. The carseat adapter is $70, but the flat recline makes it infant-friendly without the carseat. I think, for $450, a couple of accessories would be nice. My friends call me a cheapskate, but I can live with that.
Pros: Fantastic sun shade. Innovative and handy fold. One-hand unbuckle. Handles bumps and tight turns beautifully. It's very sturdy and accommodates a 75-pound child so it'll last forever.
Cons: It's really enormous and weighs 25 pounds. I think  it should come with some everyday accessories like a rain cover, tire pump or cup holder.
— Kristen
Check out our other Baby Jogger reviews: