Jaime Pressly Creates a Happy Home for Dezi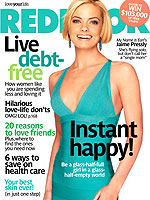 Courtesy Redbook for use on CBB
Splitting up with ex-fiancé Eric Calvo while their 22-month-old son Dezi James is still just a baby was the best thing for all involved, says Jaime Pressly in the April issue of Redbook. "The parents stay together for the kids, but the kids know that you don't want to be together," she explains. "The kids would rather you be happy — and separate — than together and miserable." She speaks from experience; Jaime's own parents parted ways while she was a teenager, and she is hopeful that Dezi will know less strife than she did as a child.
"I don't want my kid to grow up around two parents who just don't work. Eric and I take him to the park, we take him to eat. We do things together so he's with us as a family, so he knows Mommy and Daddy still love each other, that it just didn't work out."
Timing was also a concern for the former couple. "I didn't want to wait until he was older and it affected him more," Jaime, 31, explains. "I was 14, in hormone hell, and in my first year of high school — and I knew my parents were going to separate before they did…They weren't happy." Although she has full custody Jaime is quick to clarify: She is not a single parent. "Eric is involved — if I need him to take care of Dezi, he's there at the drop of a dime." While Dezi is still too young for overnight visits, he sees his dad every day that Eric is in town. Adds Jaime,
"Eric's very much a part of his life; he's a great father. We make sure that no matter what happens, Dezi is okay and protected and knows that Mom and Daddy love him."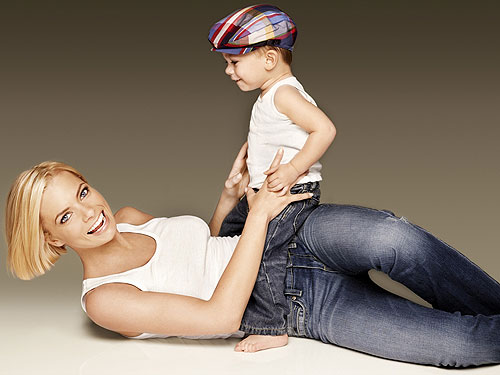 Courtesy Redbook for use on CBB
Click below to read about Jaime's labor and delivery with Dezi.
Described by her own dad as a "prissy tomboy," Jaime feels that her personality provides a unique advantage when it comes to raising a son. Noting that she and Dezi wrestle, play ball, and get down and dirty in the sandbox, Jaime points out that "as a mom, you get bruises, scrapes on your knee."  She adds,
"He bit me the other day..Not a mean bite, more like, 'Oh I love you so much!' Chomp! He'll play sports, and his dad and I will both be involved in that."
At the same time, Jaime makes it a priority to keep Dezi in touch with his softer side — and in touch with his mom's southern sensibilities. "I'll also teach him how to open a door for a lady, how to cook. I want him to know give and take," she says. "I come from a place where men are gentlemen. My father still says, 'Yes, ma'am' and 'No, ma'am' and 'Yes, sir' and 'No, sir.' My son will say ma'am and sir." He might even say it in multiple languages! Eric's Cuban roots are equally important to Jaime, who reveals that for a time Dezi spoke more Spanish than English.
"There's lots of 'aqui, aqui' and 'comida, Mami,' when he wants to eat. He can count to 10 in English. In Spanish, though, he really likes the word cinco. He'll say, 'Uno, dos, tres, quatro,' then 'cinco, cinco, cinco.' He's a really smart kid, really animated, lots of personality."
Dezi is every bit as enamored with Jaime, who says she now knows how it feels to be unconditionally loved. "I have somebody who is always excited to see me when I get home, who can't wait to give me a hug and a kiss, who doesn't judge me and loves me no matter what I look like." In return, Jaime says that Dezi's unwavering affection makes her strive to be the best person she can be. "Now I think before I speak. I think before I dress. I want to do and be the way any son would want his mother to do and be. I want to give him somebody to be proud of." Still, Jaime says that the guilt of working motherhood caught her off-guard.
"I was so ready for him and just couldn't wait to be a mother. I could have waited for the guilt I feel. I never said I wanted to be an at-home mom, and I don't think I could be with my child 24 hours a day, but I don't enjoy the guilt I feel when I leave him to go to work."
When she needs a shoulder to cry on, Jaime need look no further than her girlfriends from high school — most of whom have gone on to become moms, themselves. "It's nice to have girls' night every so often, where you can vent about how you were driving in traffic and your child threw up all over the back seat and there was no way of pulling over and there was screaming and crying," Jaime says. "It's nice to be able to vent to the people who understand and relate to you." Her friends were no doubt a big source of inspiration and comfort during Dezi's protracted labor and delivery. "My water broke on a Wednesday, but I didn't have him until Friday," Jaime recalls. "I was listening to Motown the whole time and had a wonderful delivery — 51 minutes."
"It was like me and my son were getting ready to meet. I had this relationship with him before he came: Every night I played music on the earphones, and I'd go on walks and talk to him. I was so excited and ready for him…My amazing little boy is the greatest thing that ever happened to me."
Jaime's new memoir It's Not Necessarily Not The Truth: Dreaming Bigger Than the Town You're From is in stores now.
Source: Redbook