Marcia Cross Considers the 'Old Cliché' of Motherhood To Be True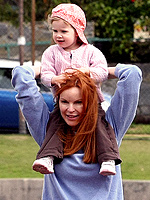 Flynet
The "old cliché" of mothers beaming with pride as they discover their children "just are who they are" is one that is ringing true for Desperate Housewives star Marcia Cross. With her fraternal twin daughters Eden and Savannah having recently celebrated their second birthday — a "very small…charming" party complete with butterfly cookies and cakes  — the 46-year-old is enjoying watching her little ladies grow up. "You just kind of stand back and keep them safe," she notes of motherhood, calling the job "the most incredible joy I've ever really known."
As their mama lends her voice for Mott's Wake Up Call, Eden and Savannah are busy brushing up their utensil skills! "They're getting better with the spoon, but there is definitely some bib action going on still," Marcia tells Entertainment Tonight. While the actress shares that her girls are "pretty good eaters," from the sound of things, one may be needing the bib more than the other! "One actually will eat absolutely anything you put in front of her; One sort of, just likes to drink a lot of milk, so it's interesting to watch," the proud mama explains.
Admitting that she is "not one for thinking of master motherhood," Marcia reveals she seems to have discovered the key to maintaining a happy family. Her secret? Humor! "Nobody ever says use humor instead of getting into it," she says. "It's like the yes, no thing all the time because obviously they have a free will and they want to do what they want." Fortunately, Marcia's ability to keep her girls in fits of giggles has proven to be a win-win situation for all, according to the actress.
"I get them laughing and that's a great distraction and a lot of fun. Then they develop a sense of humor. That's been really a great thing for me — getting them to laugh rather than getting in power struggles."
Eden and Savannah are Marcia's daughters with her husband, Tom Mahoney.
Source: ET Online