Jill Scott Considers Changes in Body 'Divine'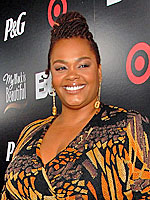 Frank Micelotta/Getty
If you're waiting for another album to be released from R&B singer Jill Scott, get ready. The expectant mom is currently working on a disc "called Ballads and Lullabies" but is having a bit of a hard time recording it. Why? "I have a little boy who sits right under my lungs," she explains. In the meantime, she is focusing on singing to her baby and believes it helps "because being pregnant moves your organs out of the way and you lose lung capacity. It's so cool how all this stuff changes your body — it's divine!"
This past year has brought the actress "extreme joy and extreme sadness," she says. "It's been wonderful." During her first trimester, Jill took part in HBO's No. 1 Ladies Detective Agency and through that experience says she has learned much more about herself. Looking forward to the next stage of her life, Jill, 36, shares,
"Here comes somebody that I get to raise and enjoy and teach. I get the pleasure of seeing everything new again. The sky is new, the clouds, the park, dogs are new. And my baby will be new. I am thrilled."
Jill's baby boy, due to arrive on Apirl 25th, will be the first child for her and her fiancé, drummer Lil' John Roberts. No. 1 Ladies Detective Agency will premiere on March 29th at 8 p.m. on HBO.
Source: The Daily Beast