Parminder Nagra Can't Wait for the 'Celebration of a New Life'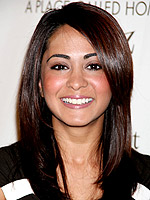 Howard Wise/JPI
The due date is nearing for ER's Parminder Nagra, who revealed during an interview with US Weekly that her little one is set to arrive at the "end of May, beginning of June." As Parminder prepares for motherhood, she says she's most looking forward to "the celebration of a new life." The whole experience so far has been "miraculous" for the actress, while thinking that "somebody is wriggling around in there, that is due to come out fairly soon, but it's not even from out of town or anything, it's right there," Parminder shares, while holding her belly. "It's hard to get your head around until it actually happens to you."
One thing Parminder didn't have to worry about during her pregnancy was planning a baby shower, because husband James Stenson took care of all the details. "He's taken the responsibility of it out of my hands, which is actually quite nice," notes the actress. Guests of the shower most likely participated in a onesie decoration craft, as Parminder identified it as her favorite activity at friend's showers she'd attended previously.
"I love it when the little onesies come out, and everybody gets to decorate the little onesie. They personalize it and that's something you would have forever. It would be something you could hand down to your child and say 'Look, so and so decorated this for you.' I think that's such a lovely, personal thing."
Baby on the way is the first child for Parminder and James, who married in January.