Amy Adams Will Keep Family on the Smaller Side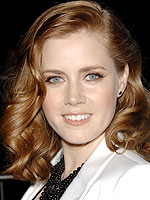 Michael Germana /SSI Photo/Landov
Actress Amy Adams knows what it is like to be surrounded by family, as she has seven brothers and sisters! For that reason that the 34-year-old doesn't think that she and her fiancé, actor and artist Darren Le Gallo, will have a big family. "I didn't like having seven siblings when I was growing up," she remembers. "I love it now. But it was just a lot. It was hard to find alone time. Now I see my siblings as often as I can."
The Enchanted actress does "want to have a family" but doesn't think she could handle a large one.
"I probably won't have a big family. I can barely manage my own life! I don't know how people do it. I give mothers, professional mothers, a lot of credit. "
Amy can next be seen in Night at the Museum: Battle of the Smithsonian, set to be released in theaters on May 22nd.
Source: Reuters