What's Best for Her Children Comes First for Monica Potter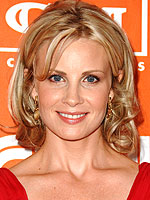 Scott Kirkland/INF
Actress Monica Potter is in the same situation as many moms — learning how to balance her work life while being mom to Danny, 18, Liam, 14 and Molly Brigid, 3 ½. Even though she has help, she admits that "you always feel like something's left out. At the end of the day it's like, which kid didn't I pay enough attention to? Or what scene didn't I get to do the right way? Or what bill didn't I pay? Or what did I forget at the grocery store? You know, those types of things. But you just try to do the best job every day. Hopefully it comes together."
Acting is a large part of Monica's life, but she makes sure it doesn't come before here children or what's best for them. Filming her new movie The Last House on the Left in South Africa, the actress thought about bringing her children along with her, but decided against it. "I didn't want to put them through that flight, time change, taking them out of school. It would have been really tough. You know, I didn't want to have them go through any of that … especially my older two," she says.
"The baby, maybe. But even still, I wouldn't be able to give her the attention needed, because I was so focused on this. And we were working nights. So she would be asleep when I would be working. And then when I'm sleeping, she would be awake."
So to help care for the kids while she was in South Africa, Monica's mother came to her home to care for them. "I was really very lucky. Very thankful for that. She helped me out a lot," the grateful actress explains.
In The Last House on the Left, Monica, 37, portrays the parent of the girl who is attacked and left for dead. Later on, the attackers enter the family home and her parents seek revenge for what has happened to their daughter. It was a role that was easy for Monica to take on because she related to the character. "I really like this woman. I like the character, I like the family. I love the relationship she has with her daughter … I'm like that. I'm very overprotective of my kids," she notes. Knowing that this is a mature film, the actress is not allowing her children to see it. "Not even my 18-year-old. I told him, 'No way.' He's like, 'I'm 18. I'm allowed to see it." Monica knows that her son may sneak to see it, but she hopes not because "he'll be in for a shock."
No matter what her future holds, Monica is going to work for her children and try "to get to the next step" in her career "without sacrificing the morals and the kids' lives." Ending on a light note, she speaks of the large gap in her kids' ages, joking that "I have one every decade. So I started in my teens, then I had one in my 20s, and then my 30s. Enough now. No more." Although she does admit that if she gets the urging for more children, "I'll adopt one."
Danny and Liam's father is Tom Potter and Molly's dad is orthopedic surgeon, Daniel Allison. The Last House on the Left is in theaters now.
Source: Dark Horizons