Sarah Jessica Parker Enjoys Being a Hands-On Mom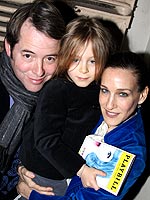 Bruce Glikas/FilmMagic
Like most moms, Sarah Jessica Parker is painfully aware that someday she will no longer be cool enough to stand alongside son James Wilkie Broderick, 6. "Children are so cute and talkative when you get them out of bed, vulnerable blabbermouths, but when they get older they talk less," she notes in a new interview. "As the days fly past, it's only going to be a few more years that he likes me." Noting that James is "borderline embarrassed" by her already, the 43-year-old Sex and the City star makes the most of their time together — employing a babysitter only when she has been left with no other choice. "I don't delegate that job of getting my son dressed and out of the door in the morning to anyone else unless I have to," she says.
"It's not so much that I think I'm so incredibly interesting to be around, but I feel like I would lose out and be worse off if I didn't do it. I'm not saying my son wakes up in the morning and is inspired by me, it's just that I love being his mother."
When they finally do exit their home for the quick walk to James' school, they often have company in the form of paparazzi. "We have people following us every day," she notes. "I don't think my son is becoming used to it — I don't think it's good for him — but it is what it is." And while she has declared previously that she would prefer a large family and has even hinted at wanting a daughter, Sarah Jessica is backing away from those statements, for she says there is no right answer to the question of whether she'll have more children.
"No matter what you say, either it's, 'Poor Sarah Jessica, she wants more and hasn't had them,' or, if I say, 'No, we're quite content,' they say, 'What a cold, heartless, selfish…'"
Famously named the 'Unsexiest Woman Alive' by Maxim magazine in 2007, Sarah Jessica isn't concerned by the title. "I think a lot about how to be a better person instead," she says. "Better wife, better mother, better friend. Those I work on."
James is Sarah's son with husband Matthew Broderick, whom she wed in 1997.
Source: Daily Mail