Nancy O'Dell Used Pregnancy to Her Co-Hosting Advantage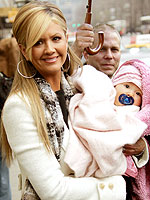 Ramey
For Nancy O'Dell, who tried unsuccessfully for eight months to become pregnant before welcoming daughter Ashby Grace in 2007, the job of co-host at Access Hollywood was often a bittersweet place to be. "I remember thinking, Britney [Spears] can't be pregnant again, when I'm just trying so hard just to have one," the 43-year-old admits in the April issue of Cookie magazine. "And then her little sister [Jamie Lynn Spears] got pregnant, and I was saying, 'Wait a minute!'" Those feelings subsided once she learned she too was expecting, however, and her boss quickly made it clear he viewed Nancy's pregnancy as an asset and not a liability. "At that point, it seemed like everyone in Hollywood was pregnant or had just given birth," she notes.
"At awards shows, he'd say, 'Go stand in front of the platform — no one will refuse to do an interview with a pregnant woman.' I interviewed Angelina [Jolie] after she had the twins, and it was so different. It was warmer, more personal, not all business. Every female wants to talk about her kids."
Nancy included! Although she did a "double take" the first time she watched Access Hollywood, 21-month-old Ashby now enjoys watching her mom on television — maybe even a little too much. "The other day Access came on, and she leaned over and kissed the TV and said, 'Mama!' I almost cried," Nancy shares. "The TV is for Elmo, animals, and Mama. And she gets mad whenever they cut to [co-host] Billy [Bush]." While Nancy herself is happy to be back in front of the cameras, the timing of her return was enough to send shivers down the spine of any new mom.
"I had so much extra energy after Ashby was born. Which is good, because in my first week back at work after three months off, I had to do the Emmys — get into a dress, the whole thing. I was so paranoid, I wore three pairs of Spanx."
Click below to read about why Nancy was moved to write a book about pregnancy.
Noting that "loving a baby is so natural, but so much of being pregnant isn't," Nancy says she was caught off-guard by how much is not covered in books for expectant parents. "I have two stepsons, but when I was pregnant with Ashby things happened that I hadn't read about — things that surprised me, scared me, or were embarrassing," she tells Cookie. "For example, I didn't know that your nipples are more erect in early pregnancy." This led to Nancy making a lasting impression on at least one hit television show…and led her to share her new-found knowledge with others.
"I showed up on the set of Grey's Anatomy looking a little too excited to see McDreamy and McSteamy. When I mentioned these little things, my friends would say, "Oh, I forgot about that." So I turned them into a book."
In the course of doing her job, Nancy has had to announce many an odd celebrity baby name , but you won't find her passing judgment. "If it has meaning to you, even if it's really out there, it's fine," she says, noting "some people questioned Ashby's name." She adds,
"Howard Stern was like, 'What kind of a name is that?' It's my grandfather's name, so leave me alone."
Ashby is Nancy's daughter with Keith Zubchevich, who has two sons — Tyler, 13, and Carson, 9 — from a previous marriage. Her book Full of Life: Mom to Mom Tips I Wish Someone Had Told Me When I Was Pregnant is in stores next month.
Source: Cookie; April issue