Molly Ringwald Reveals Mathilda's Family Plan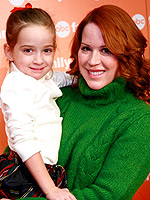 Charles Eshelman/WireImage
After a successful run of movies in the '80s including Sixteen Candles, Pretty in Pink and The Breakfast Club, Molly Ringwald has returned with a big splash! Not only is the 41-year-old starring in the ABC Family series Secret Life of the American Teenager, she also revealed in January that she and her husband Panio Gianopoulous are expecting boy/girl twins.
While choosing her favorite role to date is difficult for the expectant mama — "at different times I like one better than the other" — Molly tells PEOPLE that having her pregnancy written into the storyline is a perk she has definitely gotten used to! "I love having professionals on-set buying me maternity clothes," she says. "The more, the better!"
As she basks in the extra help during filming, Molly shares that upon welcoming her babies in August, the added assistance she will be receiving will come from none other than her 5-year-old daughter Mathilda Ereni. According to the proud mama, her little girl seems to have made a plan when it comes to baby duties.
"[She] decided she'll take care of the girl and I'll take care of the boy."
When she is not working, Molly passes her days at the beach or on mother-daughter bike rides with Mathilda as she anticipates the arrival of the twins. "I'm excited and overwhelmed, but mostly excited," she explains. As for her pregnancy, the actress admits that carrying twins has been a new experience, right down to her cravings! "With Mathilda all I wanted was nachos. Now all I've been craving is raw vegetables," she shares.
Source: PEOPLE; March 30th issue