Julia Roberts Explains Motivation Behind Twins' Names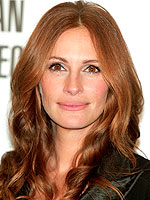 Kevin Winter/Getty
In a pair of talk show appearances earlier this week, actress Julia Roberts offered insight into how she and husband Danny Moder arrived at the names Hazel Patricia and Phinnaeus 'Finn' Walter for their 4-year-old twins. "Hazel is an old-fashioned name, and she's a strong, perfect Hazel," Julia noted during a Tuesday appearance on The Late Show with David Letterman. Meanwhile, on Wednesday's Live with Regis and Kelly she revealed: "[With Phinnaeus], my husband wanted to name him Finn, which I quite liked, but it seemed like a nickname…So I said we had to have a proper name, and then we can call him Finn." Hazel takes after Julia's sister, with "big blue eyes and 'real' blonde hair," Julia revealed; Meanwhile, Finn is described by his mom as "perfect and lovely."
Host David Letterman observed Julia's "little patch" of pink hair and inquired about its origins. "Hazel thought I should," a matter-of-fact Julia replied. "For someone who wants enthusiasm and support but perhaps less attention, I don't think that having pink hair is the way to go…So I went for just a little bit." While Hazel was pleased with the end result, her brother was even more enthusiastic! Reveals Julia,
"Finn is crazy about it. He'll stop people in the market. 'Sir, sir. Look at my mommy's hair!'"
Although she feels her heart has been "cracked right open" since welcoming the twins and their 21-month-old brother Henry Daniel, Julia has no plans to expand her brood. "No, I think I'm good," she said.
Julia's new film Duplicity is in theaters now.
Sources: Live with Regis and Kelly, The Late Show with David Letterman