Gwyneth Paltrow: Moses is 'Very Specific' About Likes, Dislikes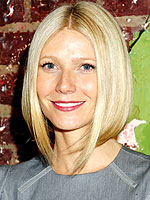 Richard Young/Startraks
The definition of grace under pressure, actress Gwyneth Paltrow revealed at Tuesday night's premiere for Valentino: The Last Emperor that she flew across the pond specifically for the event with her two children in tow — 4 ½-year-old Apple Blythe Alison and 2½-year-old Moses. "It was hectic getting ready," she admitted. "My kids are really jet-lagged, and my son had a meltdown…But we got out the door."
Barely! Gwyneth said that the clips used to pin her hair back as a makeup artist styled the 36-year-old Two Lovers star were a source of great concern for Moses. "He hated them," Gwyneth said. "He was livid." What's more, Moses was no fan of Gwyneth's Valentino gown, either! "He did not like it…he's very specific." Fortunately, from the sound of things, Apple was a more forgiving audience. Reveals Gwyneth,
"My daughter really liked it. She also chose my [pink] nail polish color."
Apple and Moses are Gwyneth's children with Coldplay frontman Chris Martin, whom she wed in 2003.
Two Lovers is in theaters now; Valentino: The Last Emperor is in limited release.
Source: PEOPLE