Charlie Sheen: I Can't Tell My Twin Sons Apart – Yet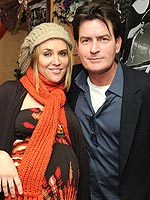 Sara Jaye Weiss/Startraks
They're not identical, but Charlie Sheen's 6-day-old twins are still managing to fool their dad.
"I can't tell [who's who]!" Charlie, 43, tells Entertainment Tonight from the set of Two and a Half Men just days after wife Brooke Mueller Sheen, 31, delivered fraternal twin sons. "They're not identical, but at this stage, they're similar enough."
Their names, on the other hand, aren't giving him any trouble. Max and Bob "are very short and simple – easy to spell and remember," Charlie says. "Bob is the same frontward and backward. I'm a fan of a short and simple name. Max was literally Nick until about a minute before he came out."
Back home in L.A., the new parents are doing well – but are a little tired. "It's pretty amazing. Not a whole lot of sleep, but what parent does at this stage?" laughs Charlie. "There's adrenaline, excitement, fear."
And the boys already have eager playmates in half-sisters Lola Rose, 3 ½, and Sam, 5, Charlie's daughters with ex Denise Richards. "[They're] thrilled," he says, "but insisting that they're named Bob and Duke. It's not Max, it's Duke." We guess Lola gave up on Zoe!
Source: Entertainment Tonight via PEOPLE
— Kristen Mascia