Peter Facinelli Learning to Balance Family and Work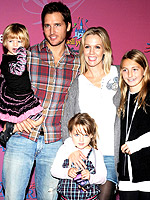 Axelle Woussen/Bauer Griffin
Actor Peter Facinelli first graced television screens in 1995 in The Price of Love, but since taking part in the film Twilight, his career has shot full speed ahead. As Peter will soon begin shooting the film's sequel New Moon and taking part in the new series Nurse Jackie, PopStar was curious as to how the 35-year-old balances it all while being dad to Luca Bella, 11 ½, Lola Ray, 6, and Fiona Eve, 2 ½.
The actor revealed that multi-tasking is key! "I'm at my daughter's soccer field with one foot on the ball and I'm on my cellphone talking to you," he laughed to the reporter.
"It's a little bit of a balance but I find time for both. I'm a big believer in quality with the family and doing stuff with them. Sometimes I might be away for a couple of weeks but when I do come home I am there for concentrated periods of time and we do some great things together."
The actor has been married to 90210 star Jennie Garth for eight years.
Source: PopStar