Mary Lynn Rajskub Works It Out
When she was pregnant with son Valentine Anthony, 8 months next week, Mary Lynn Rajskub says that her diet consisted primarily of "non-stop" sugar. "I shouldn't be saying that," she admitted during a St. Patrick's Day appearance on The Bonnie Hunt Show. "But you work it out later." Work it out indeed! Valentine's dad — Matthew Rolph — just so happens to be a personal trainer. "He's tough, but he's fair," Mary Lynn, 37, joked. In honor of the holiday, host Bonnie Hunt treated her guests to a mug of green beer…and Mary Lynn was only too happy to have a sip! She noted with a laugh,
"I don't get to drink much now that I have a baby. Gettin' your buzz on and being a mom don't mix."
As for Valentine, who is named after Matthew's great-great grandfather, Mary Lynn revealed that baby boy is keeping everyone on their toes! "He's crawling, he's pulling himself up…he kind of reminds me of my agent a little bit," she said. "Like, first thing in the morning he's 'on.'"
"He's got this, he's got that…He's making a deal with the carpet fringe. How much can I put in my mouth?"
Mary Lynn's new movie Sunshine Cleaning is now playing in select theaters. She shared the below photo of Valentine checking out the fridge!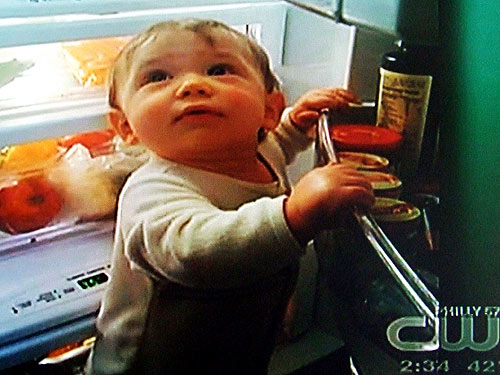 Screencap for use on CBB only
Source: The Bonnie Hunt Show