Keeley Hawes Says Kids Keep Her Hopeful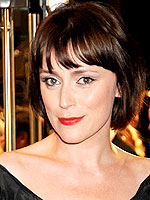 Richard Young/Startraks
When asked whether she's a pessimist or an optimist, actress Kelley Hawes says she definitely falls into the latter category and it's her three children — Myles, 8 ½, Maggie, 4 and Ralph, 2 — who have her seeing the glass as half-full. "I'm hopeful for them," she tells Psychologies magazine in its latest issue. "And I'm hopeful for my vegetable patch! When I grew up in central London, we had six pavement slabs for a garden. I'm determined to get something out of the ground to show my kids where carrots come from, other than the supermarket." The 33-year-old Ashes to Ashes star admits that motherhood caught her off-guard, however.
"The whole experience was shocking for me, physically and mentally. I had a bit of baby blues, which probably didn't register with anybody, and I wandered around thinking, well, when are they going to come and get him?"
That's when it hit Keeley that she had a "lifelong houseguest" in Myles! "Once you've gone home and everything has died down, suddenly your life has changed," she notes. "You're you, but very different. Then of course I had another, and another, so it can't have been all bad." As for her decision to tackle motherhood at an early age, Keeley admits there were both pros and cons. It's "particularly lovely" for grandparents, she notes. "Myles goes to art classes with his grandfather, they go twitching together, they do things that wouldn't have happened had I been 10 years older…They get so much out of it, more than I can tell you." On the other hand, Keeley admits "it can be very difficult financially." Even though her financial worries are no longer what they once were, she has no plans to get pregnant again.
"I'm not having any more. My husband says, 'Well, maybe one more.' I say, 'Maybe we'll adopt one more.'"
For now, Keeley says she's content to focus on her family while she continues to try — usually in vain — to carve out some 'me' time. In the interview, she says she feels most like herself when she's taking a bath with the door shut, which she characterizes as "a rare event."
"The funny thing about children is that, whichever room we're in, that's where they'll be. If I'm in the bath, they'll want to be in there too, playing with the toothbrush pot or brushing my hair. So I feel most like myself then, when they're banging on the door shouting, 'Let us in!'"
Maggie and Ralph are her children with husband and Pride and Prejudice actor Matthew Macfayden; Myles is her son with ex-husband Spencer McCallum.
Source: Psychologies