Julia Roberts Hopes Kids Delay a Career in the Arts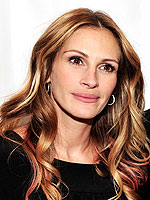 Steve Jennings/WireImage
Reports of the demise of Julia Roberts' acting career have been greatly exaggerated! "I mean, I feel busy…I think somebody said that I made 13 movies in the past six years," the 41-year-old Pretty Woman star points out to Moviefone.com; And while some of those movies were voiceover work, Julia notes: "Work is work."
"If I leave my house to go to work, it's work…Listen, if somebody wanted to, [they could] say I'm not being attentive to my children and, 'Look, she's made all these movies in the past six years.' So you can make whatever case you want."
As for 4-year-old twins Hazel Patricia and Phinnaeus 'Finn' Walter along with 20-month-old Henry Daniel —who really have been commanding most of their mom's time! — Julia  says she's not anxious to see their names in lights anytime soon.
"My first instinct is that I would prefer if my children wanted to be artists that they wait, you know, that they just wait — as long as they can."
Hazel, Finn and Henry are Julia's children with husband Danny Moder. Her new film Duplicity opens on Friday.
Source: Moviefone.com