Annika Sörenstam Expecting First Child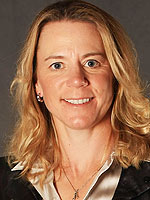 Scott Halleran/Getty
Annika Sörenstam has certainly been making the most of her time off! Retiring from professional golf in December, the 38-year-old tied the knot in January and — in a blog on her personal website today — has announced that she's pregnant.
"[My husband] Mike [McGee] and I are very pleased to announce that we expecting our first child," she writes. "We have had a lot of exciting changes in the past few months, and adding a new addition to our family later this fall will certainly be at the top of that list. We are absolutely thrilled and look forward to this new chapter of our lives! We appreciate the love and support that we have received from our family, friends, and of course my fans."
Before stepping away from the sport, Annika won 90 professional tournaments and holds multiple all-time scoring records.
Source: Annika Sörenstam