Angie Harmon Has New Sympathy for 'Miserable' Moms-to-Be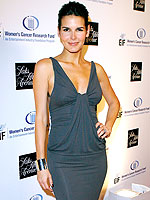 Jeff Vespa/WireImage
Mom-of-three Angie Harmon has a lot on her plate, but not so much that she isn't willing to replicate a little St. Patrick's Day magic for her eldest daughter Finley Faith, 5. At school, a leprechaun was on the loose and Finley's teacher made a trap; Angie attempted to make a similar trap at home but "it was no good," she said during a Tuesday appearance on The Bonnie Hunt Show. "It was a box, a stick and a rope…[Finley] came home and she was not impressed," the 36-year-old actress said. "A 5-year-old who is unimpressed is heartbreaking."
Later on in the chat, Angie said that the 13 weeks which have passed since she delivered daughter Emery Hope have done nothing to soften her stance on pregnancy.
"I'm so thankful and grateful for all my children, so please don't misunderstand me, but I wanted literally to take my own life every single moment of this last pregnancy. So no, we're not doing it again!"
Angie admitted that she used to view "miserable pregnant women" as "ungrateful cow[s]," but said that her experience with Emery instilled a sense of humility that may have been lacking before. "Now I totally understand what [they] mean," she said. "I am now an ungrateful cow and totally fine with it." Besides her healthy baby girl, the performance by Angie's husband Jason Sehorn remains a bright spot in the pregnancy. "For better or worse…when you get married? What that really means is, 'Will you lift her on and off the bedpan?'" she joked.
In addition to Finley and Emery, Angie and Jason are parents to Avery Grace, 3 ½.
Source: The Bonnie Hunt Show