Madonna Considering Another Malawian Adoption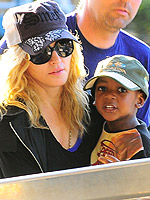 Piko Press/Splash News Online
David Banda Richie, 3 ½, continues to thrive under the care of his mom Madonna, who in a new interview says she is doing her best to keep the tot "connected to his Malawian culture." Reveals the 50-year-old songstress,
"It is a big priority for me to educate my son about the world … He has a big map of Africa in his room with lots of arrows pointing to Malawi."
From the sound of things Madonna will soon be following those arrows, herself; In response to emailed questions from Malawi's The Nation newspaper, she hints that another adoption is on the horizon. "Many people — especially our Malawian friends — say that David should have a Malawian brother or sister," she wrote. "It's something I have been considering, but would only do, if I had the support of the Malawian people and the Government." As for her recent divorce from David's dad, ex-husband Guy Richie, Madonna characterized the relationship as "very amicable."
"I believe in family…we both agree that our children should always feel a deep connection with both their parents. It is our responsibility to give them that foundation."
In addition to David, Madonna and Guy are parents to 8-year-old Rocco. Madonna has a 12-year-old daughter, Lourdes Maria, from a previous relationship with Carlos Leon.
Source: Reuters via The Nation