Louise Redknapp's Life Lesson: Take Nothing For Granted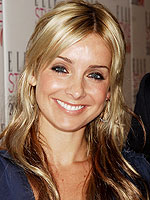 Richard Young/Startraks
The joyous occasion of welcoming their second son only 11 weeks before quickly turned into a parent's nightmare for Louise Redknapp and her husband Jamie when his health took an unexpected turn for the worse. With symptoms that had the couple fearing meningitis, baby Beau Henry was hospitalized for four days with his parents as permanent fixtures by his cribside. Turning to Jamie, Louise admits that her ability to stay strong was due to his constant support during the entire ordeal. "If Jamie hadn't been there, I don't know what I'd have done," she tells the Daily Mail. "I fell apart. I didn't sleep — I just prayed."
Luckily for the family, Beau recovered from his stay in the hospital and is a now a happy 4-month-old baby. However, the uncertainty of the future is something that Louise always keeps in mind. "I would never count on what's going to happen in a week's time, a month's time or a year's time," she explains. That said, expressing her utter happiness with her three boys — Jamie, Beau, and the couple's 4 ½-year-old son Charley William — is a bit of a taboo for the 34-year-old, who prefers to keep her feelings private.
"I love Jamie to bits and I adore my boys — but I always think that when you talk about something that's very good in your life, if it goes wrong…"
With reasons to want to protect her life, Louise shares that her journey to creating her family of four was not an easy road to travel; Years after trying to conceive her first child, she was diagnosed with endometriosis. "Finding out you can't have children takes a bit of your femininity away. It's an odd feeling, like you've completely under-achieved, which is not what I'm good at dealing with," she says.
Despite her battle and her doctor's warnings that her dreams of pregnancy may never be fulfilled, Louise discovered she was expecting her son shortly after undergoing laser surgery for her endometriosis. Managing to quickly become pregnant with Beau, the proud mama has finally reached a level of peace. "I think I've just got to that stage in life where no matter what happens to me, I've got these two amazing little men in my life," she reveals.
"I'm just so happy. But I never take it for granted."
Source: Daily Mail