Jennifer Lopez: Twins Had a 'Good Time' at Their Birthday Party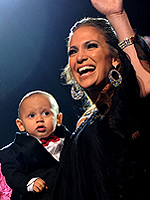 Kevin Mazur/WireImage
A baby's first word is a memory that will forever be engraved in a parent's heart, and while many are delighted to simply witness their child's developing skills, it's an added thrill to hear their name babbled first! Luckily for singers Jennifer Lopez and Marc Anthony, the benefit of having twins — Maximilian 'Max' David and Emme Maribel, 13 months Sunday — allowed for both parents to take part in that milestone. As Max eagerly said 'dada' first, Jennifer jokes with Access Hollywood that she was relieved to hear her little girl say 'mama!'
"Her first word was mama. I was real mad because Max was first and I was like, 'Okay, dada? MAMA!' He's like,'DADA!'"
Recently celebrating another milestone — the twins' first birthday on February 22nd — Jennifer and Marc opened their home to close family and friends for the special occasion. While first birthdays are infamously seen as a party for the parents, the 39-year-old reveals that Max and Emme were anxious to join in on the fun. "You don't think they're going to enjoy their party, [that] they're going to be in their own worlds," Jennifer says. "They had such a good time for one-year-olds!"
With friendly entertainment that included a moon bounce — enjoyed by both children and adults alike! — a clown and sno cones, Jennifer shares that their "awesome" party was a "cute," low-key celebration. According to the singer, the event was far from the extravaganza reported by the media! "It was not mommy dearest, okay. We didn't have a carnival in the backyard!" she laughs.
Despite their love for jumping on the moon bounce, Jennifer admits that come cake time, Max and Emme had their attention on the sweets and were all about digging right in! "I let them put their hands in the cake. They were eating it and smushing it in their mouths," she recalls. "I was like, 'Okay, this is not good. We gotta stop this!'" As for singing the traditional happy birthday tune, Jennifer laughs that she and Marc do things no different than any other family.
"I mean, we weren't harmonizing or anything like that. It was very back in the day, back home…Real monotone just like everybody does it."
Looking forward to getting her music career back on track, Jennifer realizes that the days of fulfilling her work commitments while her twins stay home is inevitable in the near future. "I have to start thinking about traveling without them and that's a big traumatizing thing for me now," she admits. "I'm going to learn. I'm going to have to learn how to balance it."
From the sound of things, Jennifer may be sharing her time on the road in the future with her budding little stars! Revealing that Emme loves posing in front of the camera at her mom's photo shoots, the proud mama also reveals that her baby boy has inherited his father's strong voice. "I don't know if [Max] is going to sing, but he has the biggest, loudest voice just like his dad," she says.
Source: Access Hollywood