Jenna Jameson Names Twins Jesse and Journey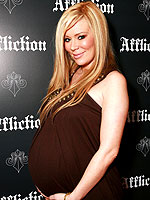 Tiffany Rose/WireImage
Update: Jenna and Tito have released the names and weights of their newborn sons to Us Weekly in their latest issue. Jesse Jameson Ortiz weighed in at 4 lbs., while brother Journey Jette Ortiz was 4 lbs., 11 oz.

Originally posted March 16th: Jenna Jameson and UFC star Tito Ortiz are proud parents to twin boys, her rep confirms to Us Weekly. The former adult film star, 34, delivered her sons this morning, Monday, March 16th in Newport Beach, Calif. Despite being premature, the twins are "in very good health."
Announcing the pregnancy in August and confirming it was twins the following month, Jenna was overjoyed to be expecting after previous fertility battles. "I can't even express the extreme serenity that came over me once I saw my children inside me," she said. "It has been my dream to have children for an extremely long time, and I truly feel like finally… the time is right and God has blessed me. I have never felt more like a woman, or more alive."
Jenna told CBB her official due date was May 3rd, but she and Tito expected the twins some time in April — "you know how twins are!" If true, that would make the boys seven weeks early.
Source: AVN; Us Weekly; March 30th issue