Jaime Pressly Says She Shed Her Skin For Motherhood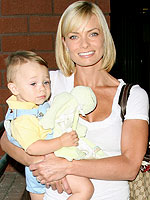 Andy Fossum/Startracks
If there was ever a defining moment in Jaime Pressly's life, the event would have to be the birth of her son, Dezi James. Leaving her past behind her, life for Jaime began for the second time only 22 months ago when the first-time mom welcomed her baby boy, she tells Ryan Seacrest during his radio show. "It changed everything, it was dramatic," she says. "It's totally life changing — there's the life before your child and there's the life after your child — it's kind of like you shed your old skin."
Unfortunately for Jaime and her ex-fiancé Eric Calvo, aka DJ Eric Cubiche, the life they imagined for themselves did not pan out, as the pair announced their split after calling off their engagement before Christmas. While Jaime admits that her demanding schedule matched with Eric's increasing popularity that had him traveling the globe certainly put strains on the relationship, she openly shares that their mutual separation was not due to a lack of effort on their part. "You know, we tried, [but] things happen," she explains.
"After you have a child, things change. It gets very difficult to try to make it work with your significant other because you forget that there were the two of you before there was the three of you. It's really difficult to not just focus on the child and have everything be about the child, but also focus and take the time out to still be a couple."
Now living her life as a single mother, the 31-year-old admits that the road she is on is far from easy; Making the workload more manageable is having a strong support system in Eric. Crediting him with being a "great father" who spends as much time as possible with Dezi, Jaime admits that the parents have become a "team" for the sake of their son. "We're very close and really just focused on being good parents and taking care of Dezi and making sure he's happy," she reveals.
While Jaime and Eric have put aside their differences in an effort to raise Dezi together, the actress admits to witnessing her life become one that she had never imagined. "You don't go into a relationship with someone and plan a child knowing that you're not going to be together in the end. That was never the plan," she says.
"The plan was to have a baby and to try to stay together. You never know in the future what will happen, but things happen and it didn't work out. We're still dear friends and have been for eleven years and very close and still love each other. It is what it is."
Jaime's new movie I Love You, Man is in theaters Friday.
Source: On-Air With Ryan Seacrest