Clive Owen: Completely Content With Being a Ladies Man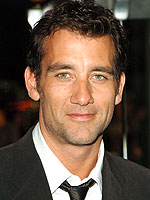 Jon Furniss/WireImage
After welcoming a bundle of baby boys, many parents are met with a looming question from family and friends: 'Are you going to try for a girl?,' while the opposite is often posed to those who find themselves in an abundance of pink. For actor Clive Owen, despite finding himself among the latter, he tells Times Online that he is perfectly content with his household of women!
After being raised in a family that included five boys, the 44-year-old admits that his past experiences are "very different from being in a family of women, which I am now!" However, the proud papa of daughters Hannah, 12, and Eve, 9, has no complaints. "I've never been one of those fathers who wanted to try again for the boy because he's got girls," he shares. "I'm very happy being around girls."
"I'm just crazy about my girls and I don't need anything else!"
Elated with the path his life has taken, Clive finds great pleasure in simply being at his Highgate, North London home, relaxing with his wife Sarah-Jane Fenton and their daughters. According to the actor's Duplicity costar, Julia Roberts, his ease in being a dedicated family man is the quality that shines through in Clive's performances, capturing the attention of his audience. "The thing about Clive is that the happiness and security he has in real life is what allows him to go into a room and grab everyone's attention effortlessly," she reveals. "The secret is, everyone is really attracted to contentment."
Duplicity is in theaters Friday.
Source: Times Online