Brooke Burke Twitters Sleepy Shaya's Latest Milestones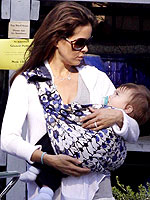 Flynet
Although he wasn't walking by his first birthday on March 5th, 12-month-old Shaya Braven Charvet didn't make his mom wait long! Brooke Burke, 37, twittered the exciting news Monday: "OMG!!! Shaya just took 4 steps!" It was certainly a bright spot in what appears to have been a challenging month thus far for the family of six, which includes Brooke's fiancé David Charvet and her three older children — Neriah, 9 this month, Sierra Sky, 6 ½ and Heaven Rain, 2.
Lamenting a "tortuous" nighttime routine, Brooke recently took to her Baboosh Baby blog for advice on how to secure some quality sleep for her entire family. "The past four nights have been rough," she wrote. "I wish I could fast forward to an easier time…Anybody wish that?"
With Neriah and Sierra, Brooke practiced a family bed for five years, but she is "trying to raise Rain and Shaya differently." To that end, while Rain spent the first six months in her parents' bed, she was then transitioned successfully to a crib; Shaya's birth and the family's move to a new home sparked a regression in Brooke's youngest daughter, however. Writes Brooke,
"She is in a big girl bed, so every night she makes her way down the hall and crawls into my bed. I have to admit, I love the late night cuddles but I do miss sleeping next to David."
Click below to read about Brooke's first attempt at employing "tough love" with Shaya.
As for Shaya, after doing some research on the Internet Brooke deduced that "tough love seems to be the best bet." Things got off to a rocky start, however, when within minutes of being left alone in his crib Shaya's cries turned to "violent screaming." Shaya was so upset, he eventually "threw up all over himself and the crib," Brooke writes.
"Just what I didn't need at 9:00 pm while Rain was fast asleep. I bathed him and comforted him. I couldn't put him back because his crib was a mess, so he ended up back in my bed, where he wanted to be anyway, and drifted off to dream land in my arms."
Noting that "sleep deprivation is a serious thing, and has many negative effects," Brooke writes that although "a sleep nurse or sleep specialist was never an option" for her family — "something has got to give."
"I just listened to the 'Sleepy Planet' CD and I know that letting your child cry it out for three terrible nights seems to do the trick for many parents, I just can't seem to do it."
Shaya is having a tough time in other areas of his young life! The transition to whole milk from formula has not gone well, and he's been battling a stomach bug. When taken together, Brooke temporarily suspended her sleep training efforts, but admitted that she felt as though she was "making excuses."
"Tonight I will try again to get him to bed on his own, and try to get him to stay there all night. I am honestly dreading it, but my body is telling me I have no choice, David and I are wiped out!"
Neriah and Sierra are Brooke's children with ex-husband Dr. Garth Fisher. Rain and Shaya are her children with David.
Source: Baboosh Baby