Salma Hayek Credits Valentina As Her Remedy For a Bad Day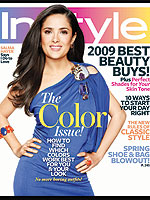 Courtesy InStyle for use on CBB
With the ability to step into character and forget her worries when stressful days strike, Salma Hayek chooses to instead focus her attention on the blessings in her life. Gracing the cover of InStyle's April color issue, the actress shares the secret to her happiness. "I'm very lucky to have wonderful things in my life," she admits. "If I'm having a bad day, I just think about my child or my dogs. I don't need to go to a character's life to feel happy."
While the utter joy 17 ½-month-old Valentina Paloma brings her parents — dad is PPR CEO François-Henri Pinault —  is obvious, Salma reveals that a recent trip for two to the toy store left the 42-year-old feeling a bit teary eyed! As Valentina, accompanied by her nanny, marched off to explore FAO Schwarz and their famous floor piano, Salma experienced firsthand the struggle of separation from her baby girl.
"Today was the first time Valentina went off to do something big without me. I wanted to cry, but I didn't."
As for her daughter's budding personality, Salma finds herself "discover[ing] something new about her every day." In talking about Valentina — who comfortably speaks to her mom in Spanish, her dad in French, and the outside world in English — the proud mama dishes on the "little dictator" that has become Salma's priority in life. "She is unique, magical — definitely the most colorful person I've ever met," she says. "I feel so connected to her, but at the same time, we are completely different."
Click here for more on Salma's InStyle interview!
Source: InStyle; April issue