Michael J. Fox On Facing Parkinson's With His Family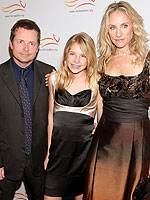 Michael Loccisano/FilmMagic
Since being diagnosed with Parkinson's Disease in 1991, at times Michael J. Fox finds himself considering the toll his health has taken on his family. However, all it takes is an outsider to ask how he is coping with his life to put things back into perspective for the actor. "I think, cope?! It's really hard to even think that way," he admits in April's issue of Good Housekeeping. "Sometimes I'll stop and think, 'Am I selling short the experience my family is having?' But then I'll look back at it and say no — they're having fun."
Melting away his initial worries is the fact that, according to Michael, his kids — Sam Michael, 19, twins Aquinnah Kathleen and Schuyler Frances, 14 and Esmé Annabelle, 7 — have willingly stepped up to the plate when needed most. "And you know, with Parkinson's, my kids just make that transition," he explains. "If I'm reaching for something, they'll just do it and carry on." While there is no argument that the family has faced its share of hard times, the father of four says his kids have managed to come away from the experience with a sense of maturity and wisdom, which, most likely, would never have been addressed. "[My kids have learned] empathy, resilience, and also sorting out what's important from what's not — things like vanity," he shares.
That being said, Michael believes the teaching has become a two-way street. Realizing that there is "not one moment that is frozen in time," the 47-year-old's outlook on life has him savoring each second with his kids. According to Michael, the same goes for his illness. "I'm not feeling particularly steady right now, but this is not going to last for more than a couple of minutes," he explains. "Same with raising kids. There are no moments you have frozen in amber. It's moving, it's changing, so appreciate what's good about right now and be ready for what's next." His parenting advice? Choose your battles carefully!
"I remember my son wanted to go to bed with his cowboy boots on, and we had this fight for like an hour. Then I realized that the only good reason I had for him not to do it is because I didn't want him to. There was really no other reason. And finally I said, 'Okay, fine.' It was a great victory for me because I realized it doesn't really matter."
More on the family's favorite pastime and Michael's determination to have a big brood below.
For the family man, his positive attitude in raising "a really affectionate family" that can't help but "laugh a lot," has him and his wife Tracy often taking some much-needed time to sit back and relax. Sharing that their favorite pastime includes traveling "up to the country," and popping in a movie, Michael admits that — with four kids and two adults — things can get quite crowded! "It's not unusual to make popcorn and then for all six of us to climb into bed and watch TV — just bodies everywhere," he says.
While Michael loves the quality time spent together with his family, he admits that the path that led the couple to having four children was one met with resistance. Following his diagnosis, the actor reveals that in addition to his decision to quit drinking, his marriage had also hit a rough patch. Despite the hardship, an undeterred Michael dreamed of having more children. "For a while there, every time I brought it up, [Tracy] changed the subject," he says. "And then one day we were watching Sam run through the bushes with one of his cousins, and Tracy turned to me and said, 'He'd be a great brother.' I knew then that she was ready to have more kids; that she trusted me [enough] to have more kids with me." One trip to the doctor and the couple realized they had been doubly blessed!
"And the Good Housekeeping Seal was when we got the sonogram and it was twins. That's when you kinda knew. An extra one, a bonus baby."
Source: Good Housekeeping