Liv Tyler and Milo's Bookstore Buys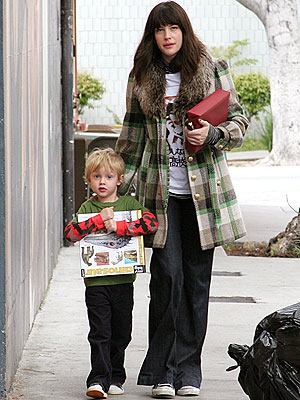 GSI Media
Four-year-old Milo William Langdon holds tight to a new treat — a book about dinosaurs — while mom Liv Tyler carries a gift-wrapped present as they walk home after a visit to the bookstore.
Later that afternoon, the pair attended a birthday party and brought along the gift for the guest of honor.
Dad is rocker Royston Langdon, from whom Liv is currently separated.
Milo is wearing C&C California's Long-Sleeve Camo Dove Tee in Race Car ($25), topped with their Short-Sleeve Tee in Boyscout ($32).