Jaime Pressly Dishes on Potty Training Dezi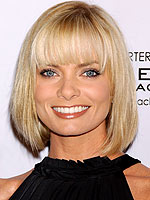 Vince Flores/ Celebrity Photo
The Spelling-McDermott's aren't the only ones in the potty training trenches! During a Wednesday appearance on Jimmy Kimmel Live! actress Jaime Pressly revealed that her own 22-month-old son Dezi James is ready to shed his diapers in favor of some Pull-Ups! In fact, it was the little man himself who decided the time had come after seeing a neighborhood pal named Ava — described as Dezi's "little girlfriend" — using his potty chair. "It lights up and plays music," Jaime explained, "and it has a toilet paper roller that when you roll it, it goes 'good job!'"
Armed with new-found motivation, Jaime says that Dezi soon began asking to use the chair, himself. "So yesterday morning I put Pull-Ups on him and he realized those were the same things Ava wore, and he ran straight to the potty chair, sat down, and went 'Mommy…potty…yay!'" Jaime recalled. "I went, 'Good job'…And then I realized there was no music [coming from the chair]." She added with a laugh,
"So he stands up and — pants still down — goes 'potty…yay!' as he pees on the floor beside the potty chair."
Dezi is the first child for Jaime and her ex-fiancé Eric Calvo, aka DJ Eric Cubiche.
Source: Jimmy Kimmel Live!