Portia de Rossi Puts a Positive Spin on Pregnancy Rumors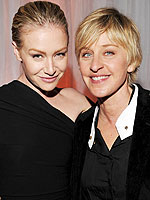 Lester Cohen/WireImage
Fans of Ellen DeGeneres, 51, and Portia de Rossi who are breathlessly awaiting a pregnancy announcement can exhale! In a new interview with the LA Times, Portia muses that although motherhood would be "amazing and exciting and wonderful," it is nonetheless a state of being she "definitely" won't be experiencing "in the near future."
"It isn't really something that's on the immediate horizon for us."
The couple — married in August 2008 — were recently the subject of baby whispers after reports surfaced that Portia, 36, was undergoing IVF. "How [the] rumor started, I really have no idea," she says. And while the stories were ultimately untrue, they weren't exactly unwelcome. "It's great that Ellen and I are a gay couple and people are open-minded enough to talk about us having a family," Portia explains.
"I feel like we kind of get all the same stuff that any heterosexual couple would get in the public eye. And that is great, that is wonderful — including the baby bump."
In denying that there is a baby-on-the-way, Portia adds that she's hoping to avoid the embarrassing scenario all actresses dread. "I just don't want those horrible pictures in magazines where they circle your stomach and point and go 'baby bump,'" she admits.
Portia's new series Better Off Ted debuts Wednesday on ABC at 8:30 p.m.
Source: LA Times