Mary Lynn Rajskub Says There's No Planning For Parenthood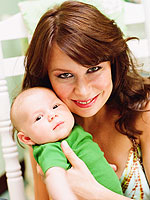 Elizabeth Messina for PEOPLE for use on CBB
Among the many perks of a celebrity pregnancy are the gift baskets filled with goodies received by the expecting mama. While the presents usually come in handy, Mary Lynn Rajskub admits that, in her case, she could have done without a few!
With a bundle of products coming in after she announced her pregnancy, there was one item in particular that left the then mama-to-be a bit frazzled: her baby kicks counter. "So the kick counter's like, 'Did you get this many kicks per hour?' And you start trying to count the kicks and then you freak out because the baby's not moving, and you're like, 'He didn't kick enough!" she explains.
"So I'm like, you know what,  I don't wanna count the kicks. I'm stressed."
Understanding that during pregnancy "all these things could happen or none of them might happen," Mary Lynn has adopted the same philosophy in her approach to motherhood. Since welcoming her 7-month-old son Valentine Anthony with her boyfriend Matthew Rolph, the new mom realizes that the journey of parenthood "is everybody's unique process, so I don't really see how you can plan for it or expect anything," she shares. "You have to figure it out while you're doing it."
One thing Mary Lynn already knows is not for her are mommy-and-me classes! After coming across an online list which invited new moms to spend time sharing their experiences thus far, the 37-year-old's first thought was "Oh, I should do that." However, in addition to not having "the lifestyle for it," the 24 actress admits she already feels the added pressure.
"I mean, I could probably show up to random meetings from time to time. But it's like, 'Lifetime friendships are formed! Sign up for eight weeks!' And I'm like, 'I can't commit to that. It's supposed to not be stressful, but I would be too worried about showing up or bringing the cupcakes."
Continue reading for Mary Lynn's thoughts on the changing stigma of welcoming a baby before marriage.
In lieu of playgroups, Mary Lynn — who "share[s] the responsibilities" with Matthew — has hired a nanny that the couple use "on-and-off" which allows her to bring Valentine along for the ride! "It's hard because we don't have a regular schedule, but we're trying to keep [my son] on a regular schedule," she explains.
While her commitment to 24 goes without saying, when it comes to additional work, Mary Lynn finds herself weighing her options. "I turn down a lot of stuff if I need to rest," she says, as she jokes, "I think it's called prioritizing — an interesting concept." Once living a life which included "jam[ming] everything into a day," the proud mama has taken a new approach to her career. "Now it's like, 'Okay, what can I realistically get done because I don't know for sure if I'm gonna get sleep."
In her new film Sunshine Cleaning, co-star Amy Adams portrays a woman who finds herself raising a child out of wedlock and living amidst a community that attaches a general stigma to the situation. While Mary Lynn can identify with Amy's character in welcoming a baby before marriage, she says that she has yet to feel any pressures from society and on the contrary, feels herself "becoming more traditional" in her values.
"So now we live in the suburbs and we drive over to Hollywood and it's like, well God, I wouldn't wanna live over here now that we have a kid. I'm not that kind of person, but things pop into my head like, 'Wouldn't it be fun to go to Disneyland?' Who am I? Where does that voice come from because that sounds like an awful idea. But for some reason, I'm like, 'Wouldn't that be fun?'"
Sunshine Cleaning is in select theaters now; It opens nationwide March 27th.
Source: Babble