Julia Roberts Dishes on Her 'Sunny Existence'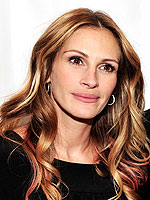 Steve Jennings/WireImage
As she publicly promotes her new film Duplicity, Julia Roberts can barely conceal her private happiness."I think of my life as a pretty sunny existence," the Academy Award-winning actress tells the LA Times. So sunny, in fact, she says that she can no longer convincingly play characters who are looking for love. "It just doesn't work for me at 41, with three kids and happily married…It doesn't hold the same interest that it did for me once upon a time." The family of which she speaks — husband Danny Moder and the couple's 4-year-old twins Hazel Patricia and Phinnaeus 'Finn' Walter along with 20-month-old Henry Daniel — were nearby while Julia conducted the interview, and she wouldn't have it any other way.
"We move as this pack. This morning Danny got them ready while I got me ready. Load them up in the car, and here we come."
Signing on to the film — her first headlining role since 2003 — was something Julia initially declined, because she was pregnant at the time with Henry. She reconsidered after his birth and says that the shoot was baby-friendly, with breaks built-in every 2 ½ hours for breastfeeding. "It was like being Swedish," she explains. "You felt like the mother is so completely supported in her motherness." That she got to share the screen with her former Closer co-star Clive Owen was also a big motivator; Watching the 44-year-old actor spend time with his wife Sarah-Jane Fenton and their daughters Hannah and Eve convinced Julia that they are of like mind.
"I looked at the four of them, and thought, 'That is an impenetrable club. They are four people moving together in this whole world. It was so touching to me, the way their four heads moved together. That's how I feel about my family."
Click below to read about Julia's tricks for air travel with three kids.
Julia took the kids to India recently to visit Danny, who was on location shooting a film. The 32-hour flight was made bearable because Julia used it as an opportunity to relax the rules she normally enforces. "That's where not watching a lot of TV or eating junk food comes in handy," she explains, "[because] it's an unlimited amount of snacks and Netflix." The kids "were pretty absorbed" by the country, riding on elephants and even touring the Taj Mahal. They were also exposed to poverty, leading to some interesting exchanges with Hazel. Julia recalls,
"My daughter would say to me, 'Where is that baby's mommy?' For her, it's not about there's a child eating garbage off the streets. It's because the mom's not standing right there. I said, 'Well, Hazel, look at that child, she doesn't even have pants on.' I don't have to say anything awful. It speaks for itself."
Protecting her brood from the prying eyes of the public remains a priority for Julia, who notes that she's never taken the kids to an event or a film premiere. "We don't hide, but we want to keep our family to ourselves," she says. "I don't want my kids photographed. They're my children. They deserve my privacy. They belong to me. I share them in ways I choose to share them with people that I pick." Her discomfort with the paparazzi and their presence in her family life is evident when fans approach and mention having seen pictures of her with the kids. " It makes me sick to my stomach," she admits. Danny is good at reminding her, however, that "for the most part, people are trying hard…they mean well." Even the paparazzi! Says Julia,
"I have tried to teach myself to leave a little room for that."
Duplicity opens on Friday.
Source: LA Times