Gwyneth Paltrow Says School Search is 'Unbelievable'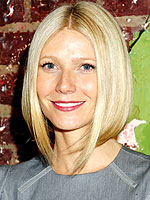 Richard Young/Startraks
Depending on where you live, enrolling your child in preschool can be as simple as making a phone call and paying a registration fee. For others, the process is decidedly more complicated — not to mention competitive! That's the scenario Gwyneth Paltrow found herself in with her 4 ½-year-old daughter Apple Blythe Alison, and it's the course she's about to chart again with son Moses, 2 ½. "It's unbelievable," she laments to the Sunday Herald. "It's pretty cut-throat in New York but here [in London] I didn't realize that when they're born you basically have to put their names down…I mean, I was so panicked."
Britain's "leveling system" is something Gwyneth says she appreciates. "It is what it is," she explains. "I like that." Still, the 36-year-old Two Lovers star admits she was stunned when Apple was made to complete an entrance examination. "I was like, 'My God, she's two'…And it's so complicated." For Gwyneth, who grew up in Manhattan, the decision to enroll the kids in schools overseas presented its own unique challenges.
"You're in a country where you don't know what the experience of being a child in that country is. I looked at every school in north London, and everywhere else. I just wanted to make sure that I felt like I would want to have gone there."
While many might assume that her status as an Academy Award-winning actress married to Chris Martin — a Grammy Award-winning musician in his own right, with the band Coldplay — would almost certainly guarantee entry to the school of her choosing, Gwyneth says that the assumption would be wrong. "I feel in Britain there's less of that," she explains. "In America I think money, position, all of that kind of stuff, can really help you break down doors." In fact, Gwyneth says that the school officials she's encountered in Britain treat her like any other mom anxious to secure a spot for their child.
"They definitely make me stick to the rules. I just had to cancel a trip to India [with Save the Children] because Moses got an interview to go to the school next year, and it was in the middle of the week when I was meant to be in India. The form says, If you can accept the appointment, sign here. Or if [not], you're withdrawing your application…There's no flexibility. I'm like, high-pitched panic, 'OK, I'll move the trip.'"
Gwyneth's new film Two Lovers is in theaters now.
Source: Sunday Herald