Dierks Bentley Uses Evie as His Sounding Board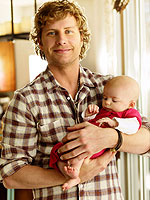 Brian Doben for PEOPLE for use on CBB
Despite previously joking that becoming dad to 5-month-old daughter Evalyn "Evie" Day had led Dierks Bentley to write a song about his daughter's favorite thing — boobs — the singer does admit that "having her has been great for my writing and my playing." He notes that fatherhood has not led him to "writing songs about sippy cups and milk," but says he does have a sounding board in Evie.
"The great thing about having a kid is that they eat and then they need an hour of stimulation. So it's, 'Great, Evie, let me show you how I'm working on the guitar part for 'Beautiful World.' You have a kid, you'll be playing great guitar in no time."
Evie is the first child for Dierks, 33, and his wife Cassidy.
Source: The Tennesean