Shaun Alexander Welcomes Son Joseph Prince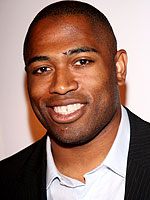 Steve Mack/FilmMagic
Former Seahawks and Washington Redskins player Shaun Alexander has welcomed his own little running back! With an update posted on his blog the following day, Shaun shares that Joseph Prince Alexander was born on Tuesday, March 3rd. According to the proud papa, Joseph "is healthy" and his wife Valerie "is doing great!"
Joseph joins big sisters Heaven, 5, Trinity, 3 ½, and Eden Grace, 2, who were all hoping for a baby brother! In a November post Shaun wrote, "My daughters want a little brother, but I'd be very happy with another girl. No matter what I accomplish on a football field, there is no greater joy in the world than being a father." The pregnancy was announced in September.
Source: Shaun Alexander
Thanks to CBB reader Victoria.