Samantha Harris Gives Tips on Healthy Living for Moms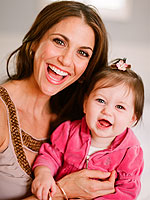 Elizabeth Messina for PEOPLE for use on CBB
Samantha Harris returned to her job as co-host of Dancing With the Stars just three weeks after the birth of her daughter Josselyn Sydney, now 17 months, and quickly returned to her pre-baby form. However, the entire experience put Samantha under a great deal of pressure, she explains. "The pressure was unbelievable, in that my baby was so new, being a mom was new for me, and then I knew I had to fit into gowns for the show under the watchful eye of a television audience," she notes.
While trying to lose the weight, Samantha learned that "it is almost impossible for any mom to have that five minutes all to herself, but giving a little time for yourself is actually good for your family in the long run."
"A few minutes can really go a long way. Taking care of yourself is a big gift for your family in the long run."
That is why The Insider correspondent has partnered with Melba Toast to provide healthy advice for all women. Some of the 35-year-old's tips include napping, eating healthy for mom and child, steam baths after exercising, fitness classes, walking with the family, playtime with children, incorporating your children into your fitness routine, make exercise a priority and most of all, have fun doing it.
Samantha is married to financial wholesaler Michael Hess.
Source: El Paso Times