Dominique Moceanu Welcomes Son Vincent Michael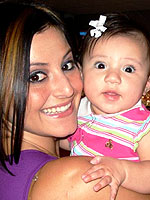 Courtesy Dominique Moceanu for use on CBB
It's a boy for Olympic gold-medal winning gymnast Dominique Moceanu Canales and her husband, gymnast-turned-surgeon Mike Canales! Vincent Michael Canales arrived on Friday, March 13th in Cleveland, OH, weighing in at 8 lbs., 9 oz and 19.5 inches long. He joins Carmen Noel, 14 months.
"Mommy and baby are doing well," Michael tells PEOPLE. As for the new big sister, "Carmen couldn't be happier or more excited."
The couple announced the pregnancy in September, eventually sharing that they knew the sex of the baby but would be keeping it private. Dominique, 27, recently posted an adorable video of Carmen poking at her belly — check it out here.
Source: PEOPLE