Happy Birthday Liam McDermott!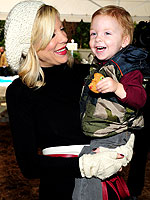 Albert Michael/Startraks
Happy Birthday Liam Aaron McDermott! Tori Spelling and Dean McDermott's son is 2 years old today. Welcomed to the world in Los Angeles, Liam was a star before he was even born, appearing on Tori & Dean: Inn Love from inside his mom's tummy. After his birth, Tori called her son "the most gorgeous thing [I've] ever seen," and other girls must agree: Liam is a budding ladies' man!
From Hawaii to Manhattan, Tori's "little monkey" has charmed us all. Big brother to sister Stella Doreen, Liam is growing up — even potty training! — and we can't wait to see more of him in the years to come.