Gwyneth Paltrow: Parenthood Has Given Me a New Perspective on Life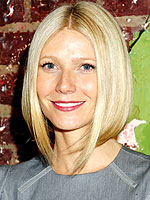 Richard Young/Startraks
Since becoming a mother in 2004 when she welcomed her daughter Apple Blythe Alison, little of actress Gwyneth Paltrow's life has gone untouched. "Motherhood has changed me in every way. It changed everything from my DNA on up," she reveals to OK!. "My perspective is so much different and the way I spend my day is different." For the actress, who is currently working on several films, that time during the day is often spent missing her 4 ½-year-old daughter and 2 ½-year-old son Moses as she finds herself wondering what her brood is up to. However, despite longing for her family, Gwyneth has no complaints. "It is also nice to acknowledge that I am a woman, I'm an artist, I work and it's part of who I am," she explains.
Those long hours spent on set, in addition to her husband Coldplay frontman Chris Martin's successful career, has provided the proud parents with the means to offer the world to Apple and Moses — and Gwyneth is making it her priority to raise two appreciative and grounded children.
"I always try to instill that they're very lucky and most children don't get the things that they get. [I teach them] to be mindful and hopefully it will stick with them."
With Chris out on tour with his band, the 37-year-old relies on her mother, actress Blythe Danner for support — and an extra set of hands! Clearly elated to spend time with her grandchildren, Blythe admits that listening to the children confess how much they miss her is music to her ears. "I love that," she says. As for her daughter, the 66-year-old grandmother has only admiration for the life she leads. "Gwyneth is brilliant. She's an extraordinary mother. She's wonderful," she gushes, adding that she is "very proud of her."
Source: OK!