Candace Parker: 'Everything Happens For a Reason'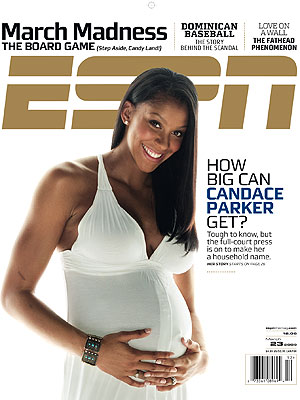 Courtesy ESPN for use on CBB
Although her pregnancy was unplanned, Candace Parker is a big believer in fate. "I was surprised," the 22-year-old Los Angeles Sparks forward admits in a cover story for the latest issue of ESPN The Magazine. "But everything happens for a reason."
What's more, Candace says that she's looking forward to integrating baby-on-the-way — reportedly due in May — into her life as an international basketball star. "It will be exciting to have my child share my career," she explains, "and to remember what I was like when I was young."
Softly proclaiming that she's "not worried" about impending motherhood, Candace notes that she has nieces and nephews who have helped prepare her for what lies ahead. "Of course, [husband] Shel[den Williams] and I joke that we can't send this one home," she adds. The couple never wavered on how they would handle the pregnancy, however. Says Candace,
"I knew my decision. I knew people would have positive and negative reactions to it. But I've been a people-pleaser my whole life. I needed to get over that."
Still, there are contracts to uphold and endorsements to keep; To that end, Candace says she intends to return to the court as little as two months after her due date. She'll try to avoid a C-section at all costs while trying to prove her detractors wrong. "I'm stubborn," she says. "I've been through knee, ankle, shoulder injuries…I feed off of doubt, people telling me I won't be able to come back. We'll see about that." Basketball has a calming influence on Candace, so a speedy return to action is something she says she wants.
"The baby will be along for the ride, with me on trips, at the court. You don't hear about male players doing that, do you? Women, we just have to balance more things. It's harder for us. That's just the way it is. For now."
Baby-on-the-way will be the first for Candace and Shelden, a forward with the Minnesota Timberwolves. The couple were married in November.
Source: ESPN The Magazine
Click here for video footage of Candace's cover shoot.