Burney Lamar Says Ciel is 'Absolutely Perfect'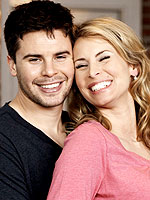 George Holz for PEOPLE for use on CBB
All you have to do is listen to NASCAR driver Burney Lamar to hear how much he's enjoying fatherhood, nine days after welcoming daughter Ciel! The new dad "love[s] everything about my daughter" — including the stinky bits! "I know you hear about some dads not changing diapers, but not me," he says. "I am trying to just spend as much time with her and do everything I can right now — even the diapers!"
Burney, 28, also likes dressing his daughter. "Putting clothes on a couple day old child is the coolest thing!," explains the proud papa. "She is so small and the clothes are so tiny. It is just amazing!" However, his favorite thing about his daughter is her scent.
"She smells so good. And, this is going to sound funny, but even her breath smells good when she cries. And her crying is the cutest thing ever. She makes the sweetest faces. She is absolutely perfect."
Overall, Ciel is "a great baby. She sleeps well so far, only up two of the five nights. We actually have to wake her up to feed her," says Burney, quickly clarifying that his wife, supermodel Niki Taylor, is the one on "night shift."
Ciel is the first child for Burney and Niki, 34. Niki is also mom to 14-year-old identical twin sons Hunter and Jake.
Source: PaddockTalk