Marcia Cross Chats with CBB!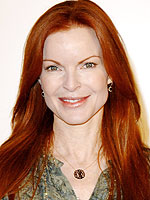 Jon Kopaloff/Film Magic
From Melrose Place to Wisteria Lane, actress Marcia Cross has charmed audiences with her impeccable style, sharp wit and that gorgeous red hair. But behind her Hollywood shell, Marcia is a wife, spokeswoman, and most importantly to us, mom!
A favorite here at CBB, Marcia is seen out regularly with her adorable two-year-old twins, Eden and Savannah, playing in the park, running to the grocery store and just enjoying life.
Marcia recently took a few minutes out of a busy visit to New York City to talk to CBB about life as a mom and her daughters' budding personalities.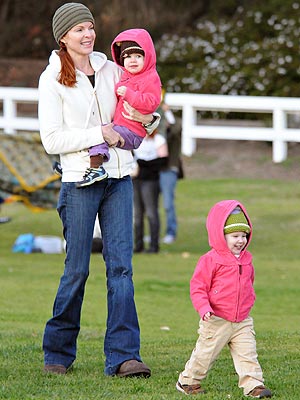 ZNK/Fame Pictures
You always look like you're having so much fun – you're always at the park! You're definitely a site favorite.

We do have a lot of fun. I'm a happy mom!
We asked our readers to send us their questions for you. Reader Callie asks, since you are out so often, we see you photographed a lot. How do you keep paparazzi from interfering with your lives?

I realized that there was nothing I could do about it. Being upset about the paparazzi would put me in a cranky mood and ruin my time. I decided I didn't want that to happen, so I've just ignored them.
There have been a couple of times when I've gotten upset, usually when boundaries are crossed. There's a certain protocol that even the paparazzi seem to follow, and when that's broken then I get a bit outraged. But for the most part if they keep their distance, my children don't really know what's going on, so I'm fine with that.
I just block it out. I don't look up, I try not to think about it, and I get on with my life and enjoy my day.
What do you do if that line is crossed?
My "mother fangs" will come out. But I usually don't talk to them if I'm at the park or going about my day.
Sometimes they're nice – they've given me pictures, or they'll give me privacy for a day. There are all kinds of photographers.
Reader Jane asks, what else do you do to make sure Eden and Savannah have normal childhoods?

Well, they are having normal childhoods! They don't know where they are, or who I am on TV. I'm just their mom and they're just growing up. As they get older, if I'm still in the public eye, then we're going to have issues to deal with, but right now it's just completely normal.
Do you plan playdates with other moms and their kids?
We have lots of playdates! Most of my friends had kids quite a while ago, so their kids are in the 10ish age range, so these are new friends, kids from the park, kids from "mommy and me," people I'm meeting now, people in the neighborhood. We play with lots of twins! There are three sets of twins in our neighborhood.
You've talked about the girls being very different – sometimes people forget twins aren't identical people! Reader Christine asks how are Eden and Savannah most different, and how are they most alike?
They're kind of most alike in that they're both very happy. They have happy spirits and temperamentally, they're very good-natured. They're different in that one seems to be incredibly empathic, and the other is more inclined to see how things work, and figure them out mechanically.
I'm also really careful not to stick labels on them, because one is more extroverted in social situations, but these things come and go and change. So I think of them as very malleable. I'm seeing them as who they are. One tends to be a little more introverted in public situations, but I don't ever say she's shy in front of her, because I don't want her to take that on, because maybe she's not comfortable in that place but somewhere else she is comfortable. I just want to let them develop.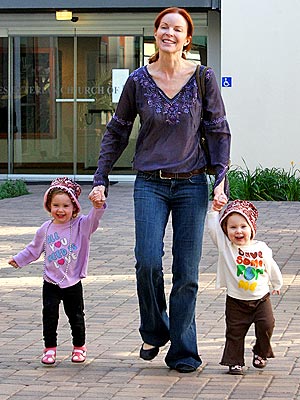 KM Press
Reader Lisa asks, what are some of their favorite things to do with you?
One of their new obsessions is, "Go in the front back seat mama!" They like to get in the car, and I'll pretend we're driving to Santa Barbara, and they'll walk all around the car, open the glove compartment, hit all the buttons. They have a blast!
They love to go to the park, and one especially loves reading books together. They love the backyard, the swings. There are just so many things to do.
And now – this is a reflection of their mother – they say, "Go to a café mama?" They love to go out with me to have lunch or get a cup of coffee. They tease me for my coffee drinking.
Do your daughters enjoy role-play such as cooking or dressing up?
They like to help! If I'm making pancakes they want to stir. I let them get involved. I see them doing that with their dolls – mimicking me.
In fact, we were coming down the stairs the other day, and one sat down and said, "Let's talk about it!" I thought, "Who says that?" And I realized, "It's me!" I'm sure every mother has that moment where they realize their children are repeating things they say. If they get upset or whatever, I say, "Let's talk about that," so now they're saying it.
Every mom knows that working and being with your family means being organized and on a schedule. Readers Amy and Editorjax are interested in how you keep work and family balanced. What are some of the little things you do to simplify your life?
I try to be present when I'm with my girls, which is probably why I look like I'm having so much fun. I try not to multitask, or be on my phone when I'm with them. I bring them to work sometimes, which isn't easy, but necessary. It's stressful but important.
This is a particularly hard week because I had three full days before I left, and now I'm in New York. The girls aren't with me; I was working 12-hour days before I left. When I come back I only work two days in the next episode [of Desperate Housewives], so I'll have lots of time to be with them. But when it gets unbalanced, like now, I don't have any solution for the time problem. I mean, my kids are fine. They're happy; dad's been with them. I have a little Web camera so I can see them at home, which is a brilliant gadget. It helps to have that connection, to have that camera and see and hear them.
Motherhood is never one emotion! If you have kids, you're with them and 80 percent is so happy to be there and 20 percent of you wants to get your nails done and have a cup of coffee. You have to know that that's normal. When you're not with them, you think you should be totally carefree and have a moment to yourself, and part of you is missing them and aching for them. It's never just 100 percent of everything.
— Danielle
Related stories