Happy Birthday Braydon Wilkerson!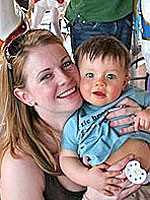 Courtesy MJHW for use on CBB
Happy Birthday Braydon Hart Wilkerson! Melissa Joan Hart and Mark Wilkerson's littlest "heart" is 1 year old today. Brady's mom "enjoys every moment" with her little guy, who so far, is a mama's boy through and through. Whether he's out at the beach with the family or out and about in Los Angeles with mom, this adorable baby seems happy wherever he goes.
Little brother to Mason Walter, 3, Brady has captured the hearts of many CBB readers, as well as that of his mom, who told PEOPLE, "Your love multiplies with each child. I didn't know I could be this in love again."
As Melissa told us last month, Brady has a special surprise in store today: A family trip to Disneyland! We wish this little cutie all the best.