Atlas: Behind Anne Heche's Name Choice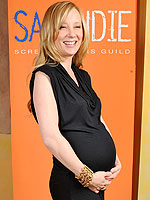 Fred Hayes/WireImage
With many readers expressing their opinions on Anne Heche and James Tupper's choice of Atlas for their first child together, we spoke to Linda Rosenkrantz, co-owner of NameBerry, as well as co-author of The Baby Name Bible: The Ultimate Guide By America's Baby-Naming Experts to get her take on the moniker and the popularity of mythological names.
"With Anne Heche naming her son Atlas so soon after Erykah Badu called her baby girl Mars, it's beginning to look like a mini-trend developing! Some celebrity parents suddenly seem to be making little gods and goddesses — instant objects of worship — of their infants right from day one. Names that were previously considered too powerful for a mortal baby to carry (after all, Atlas was the Titan who bore the weight of the heavens on his shoulders, and Mars was the Roman god of war) now seem to have descended from Mt. Olympus into the realm of human possibility.

And Atlas and Mars aren't the only mythic starbabies. Chris Noth has a son called Orion, Metallica's James Hetfield is father to Castor, and Kelly Rutherford's son is Hermés — messenger of the gods — as well as a modern fashion icon. Constance Marie just named her daughter Luna, Coldplay's Will Champion called one of his twins Juno, and Patricia Arquette bestowed Calliope upon daughter Harlow as a middle name. Some other goddess and muse names in the air: Aurora, Clio, Maia and Venus."
What do you think of mythological names? Would/did you use one for your child?