A Snapshot from ENK/Bubble March 2009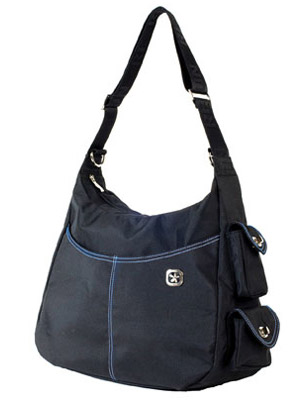 Fleurville's Re-Run Hana Diaper Bag
Every March and October, children's apparel companies fill Jacob Javitz Convention Center in NYC for the ENK Children's Club tradeshows to preview the fashions that will stock stores six months later. A smaller offshoot, Bubble New York, features up and coming brands that cater more to more bohemian boutiques. Both are like the coolest store you've ever shopped but 10,000 times bigger and you can't buy anything! Oh the agony!
This year's shows were definitely more understated, with fewer vendors, fewer introductions of new products, less expansion of existing lines, smaller booths, and slightly reduced prices, but it was still a great show. I twittered the show, sharing my instant feedback but here for our non-Twittering readers is what I saw and loved.
While at ENK, I also attended the Vogue Bambini fashion show. Check out the looks from the runway!
Diaper Bags
Loving Fleurville's Re-Run linen blend fabric which is new for spring – stay tuned for our review of their new Hana bag in the new fabric. All Re-Run bags are made from plastic bottles saved from landfills. For fall, their new Flag print reminds me of international soccer and will be available in the kids' lunch pack (that Violet Affleck and James Broderick use) and messenger. The new bouquet fabric will also appear in fall.
Dante Beatrix's new medium-sized DB Haul Tote comes in the clever emoticon "Wink" design ($145), plus adorable toddler-sized backpacks (perfect for camp, daycare and preschool) including the super sweet Bunny!
Petunia Pickle Bottom has a few introductions for spring: new original brocades, chenille, glazed (coated PVC-free canvas), organic cotton slings, organic layette gift sets comprised of kimono style bodysuits, socks, swaddling blankets. For smaller dads and moms, they've created a smaller version of their Scout Journey Pack. The Rubicon Rucksack is made of 2-tone buffalo leather will last beyond baby years as a bag for mom and dad ($271).
Reese Li's new Spring prints I'm loving: Crimson Bloom and Green Tea Bloom in the Lexington Tote & Madison Messenger ($150).
Clothing
Spike and Annie has adorable bathing suits, dresses, linen overalls with velcro closures for summer.
Zutano's best prints for March: Travel for boys, Marigold for girls; for April: the retro Toy Chest for boys, Pinwheel for girls.
Adore La Vie is a former Janie & Jack designer now doing a high-end mom/daughter matching dress line with mature fabrics styled for kids 2T-6 ($135-178).
Sage Creek Organics' toddler line does not have that organic look – a bonus in my book.
So loving Picaflor's supersoft breathable machine washable rayon in 2 lines: preemie-18 mos and 6 mos-8 years ($10-36).
Baby Bloggers' cute txt msg bodysuits with sayings like ijpmp (I just pooped my pants) and lmdo (laughing my diaper off) $20
It's very expensive but I adore Humming Baby's two-layer fluffy soft gauze kimono tops ($85) and coordinating ruched bottoms ($70).
HiHo Batik (as worn by Sasha and Malia Obama) has great "Mom" and Space theme tees for fall.
In the fall, Hatley is releasing a new winter sports theme in honor of the Winter Olympics in Whistler 2010, terry coverall, playsets, Super Hero and Farmer Jack/Jill prints for pajamas and fleece buntings.
Accessories
Winter is almost over but I can't wait for fall because of Zooni's bamboo Sweet on You cupcake hat and mittens ($30 and $20). Their 3-dimensional circus-themed ConFEETi socks will be out in May ($8/pair).
A good excuse to wear BabyLegs all year round – their new mesh legwarmers available in May have UV protection. My favorite is the cherries print!
Shoes
Sweet Shoes added two shades to their amazing metallic Sweet Janes – purple and pink ($30). I am in love with their new (for fall) two-tone MJs in patent and metallic leather with floral velcro closure for fall ($30). For your punk baby, plaid flannel Sweet Tops high tops with elastic faux laces and velcro closures ($30).
Classic tennis shoe line Spring Court just brought kids to the US this year, crib shoes $50, toddler $65, so freakin' cute fall stuff for boys.
Umi Spring 2009: My favorites include:
Babies: For boys: white/navy Sail sandals, sky blue Puggle. For girls: Sail sandals and Pearl MJs. All at a new lower price ($35).
Toddler: For boys, denim, navy grained leather velcro sneaks Action. For girls: Selenia sporty but femme iced nubuck MJs ($47-65).
Kids: For boys: Sandals Trek waterproof. For girls: Indian-inspired Tea party ($58).
First time exhibitor Creative Recreation has adorable new kids hiphop high-tops in metallics for toddler sizes 4-10 ($45-48).
At Livie & Luca, my faves are, for boys, Paulo's moc rocker, and for girls, Pink Toodles – pink/cream spectator with a faux button, in sizes 4-12 ($44). They are also moving manufacturing to Mexico from China (reduces carbon footprint).
See Kai Run nails it again for Spring. For toddlers, I love the Benson very Euro sandal for boys, and for girls, the black and white Dorothy, Cameron Sky teal floral sandals for ($38-40). Their infant line, smaller, has sweet pastel MJs for baby girls but I love the gold sandal ($32). Look for our review of the line very soon. Standouts from their kids' line, eleven, include Joaquin Fisherman sandals and Alistair suede shoes for boys, and Astrid, Laura MJs, Nadia and Emma sandals for girls, in sizes 9-3 ($46-50).
Nursery and Gear
Wonder Bumpers are individual crib slat bumpers, set of 24 comes w crib skirt, sheet, swaddling blanket ($159).
Looking for Indian-inspired crib bedding? Rikshaw Design's Taj stroller blankets on sale now $56. The company received thank yous from Angie Harmon for their Indian-inspired Taj stroller blanket, requested in pink.
Sam Simon Projects recently completed murals for Betsey Johnson's 2-year-old granddaughter's bedroom
A modern twist on Steiff – Kuma Bears from Areaware ($36).
Peanut Shell has gorgeous linen/jersey ruffled pouch for summer around $150 and swaddlers lined in fleece $48, both out this spring.
— Danielle